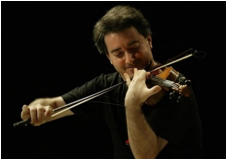 Présentant un mélange éblouissant de brillance technique et une personnalité musicale particulièrement profonde, Hagai Shaham est internationalement reconnu comme l'un des étonnants violonistes qui ont émergé d'Israël ces dernières décennies. Hagai Shaham a commencé à étudier le violon à l'âge de six ans et était le dernier étudiant du célèbre professeur Ilona Feher. Il a également étudié avec Elisha Kagan, Emanuel Borok, Arnold Steinhardt et le Guarneri Quartet.
En tant que soliste, il a joué avec de nombreux grands orchestres du monde, notamment l'Orchestre de chambre anglais, le BBC Philharmonic, le Royal Philharmonic Orchestra, le Royal Liverpool Philharmonic, l'Orchestre Symphonique National de RTE, l'Orchestre National Belge, l'Orchestre Symphonique Français, Taipei, Singapour et Les orchestres symphoniques de Shanghai, l'Orchestre symphonique SWF Baden-Baden, l'Orchestre philharmonique de Slovaquie et de Belgrade et l'Orchestre philharmonique d'Israël dirigé par Zubin Mehta.
Hagai Shaham est très sollicité en musique de chambre. Il tourne régulièrement à travers l'Europe, l'Amérique du Nord et l'Amérique centrale et se produit dans des séries de récitals et des festivals internationaux. Il a enregistré pour Decca International, Chandos, Biddulph, Naxos, Classic Talent, AVIE et Hyperion.
Hagai Shaham est professeur à l'École de musique Buchmann-Mehta de l'Université de Tel Aviv; Ses master classes en Europe et en Israël attirent de nombreux étudiants.
Displaying a dazzling combination of technical brilliance and a uniquely profound musical personality, Hagai Shaham is internationally recognized as one of the astonishing young violinists who have emerged from Israel in recent years. Hagai Shaham began studying the violin at age of six and was the last student of the late renowned Professor Ilona Feher. He also studied with Elisha Kagan, Emanuel Borok, Arnold Steinhardt and the Guarneri Quartet.
In September 1990, he and his duo partner, Arnon Erez, won the first prize at the ARD International Music Competition in Munich in the Violin-Piano duo category, the first competitors to be awarded this coveted first prize since 1971. His other awards include first prizes at the Ilona Kornhouser competition, the Israeli Broadcasting Authority Young Artist competition, The Tel-Aviv Rubin Academy competition, four Clairmont Awards, and annual scholarship from the American-Israel Cultural Foundation.

As a soloist he has performed with many of the world's major orchestras, including the English Chamber Orchestra, BBC Philharmonic, Royal Philharmonic Orchestra, Royal Liverpool Philharmonic, RTE National Symphony Orchestra of Ireland, Belgian National Orchestra, Orchestre Symphonique Francais, Taipei, Singapore and Shanghai Symphony Orchestras, SWF Baden-Baden Symphony Orchestra, Slovak and Belgrade Philharmonic, and the Israel Philharmonic Orchestra under Zubin Mehta. In 1985 he was invited to join Isaac Stern and Pinchas Zukerman in a gala concert at Carnegie Hall, following which Zubin Mehta invited him to perform Brahms' Double Concerto at Carnegie Hall.
In 2006 he performed once again this work under Mehta, at the Isrel Philharmonic 70th anniversary's celebrations with cellist Misha Maisky.
He is in great demand as recitalist. He regularly tours throughout Europe, North and Central America and performing at international recital series and festivals.
He recorded for Decca International, Chandos, Biddulph, Naxos, Classic Talent and AVIE. He records regularly for Hyperion, where his CDs received critical acclaim.
Hagai Shaham is a professor at the Buchmann-Mehta School of Music at Tel Aviv University; His Master Classes in Europe and Israel attract many students.
Together with his colleague, violinist Ittai Shapira, he is co-founder of The Ilona Feher Foundation